Maximus Chillers proudly announces our higher capacity ammonia refrigerant transfer pump that will get the job done fast. We have UK wide coverage and even have customers Jeddah and Malaga. Our network of suppliers and recycling centres means that with ammonia to go, you are never far away from the job getting done. We are your one stop shop for all your refrigerant recovery needs. The best service- the best equipment- the best by far- ammonia to go
recovery station
Bolting the pump and the pump out unit together was the rubber on a pencil moment in ammonia refrigerant recovery. We have better equipment and a bigger and better pump. We will get your ammonia to go…
0161 237 3727
pump@ammoniatogo.com
NASA developed seals
We have used NASA developed materials to construct our pump seals. These seals can withstand the high inlet pressure of a liquid refrigerant. Due to the pressure temperature relationship, a high ambient relates to a high pump inlet pressure.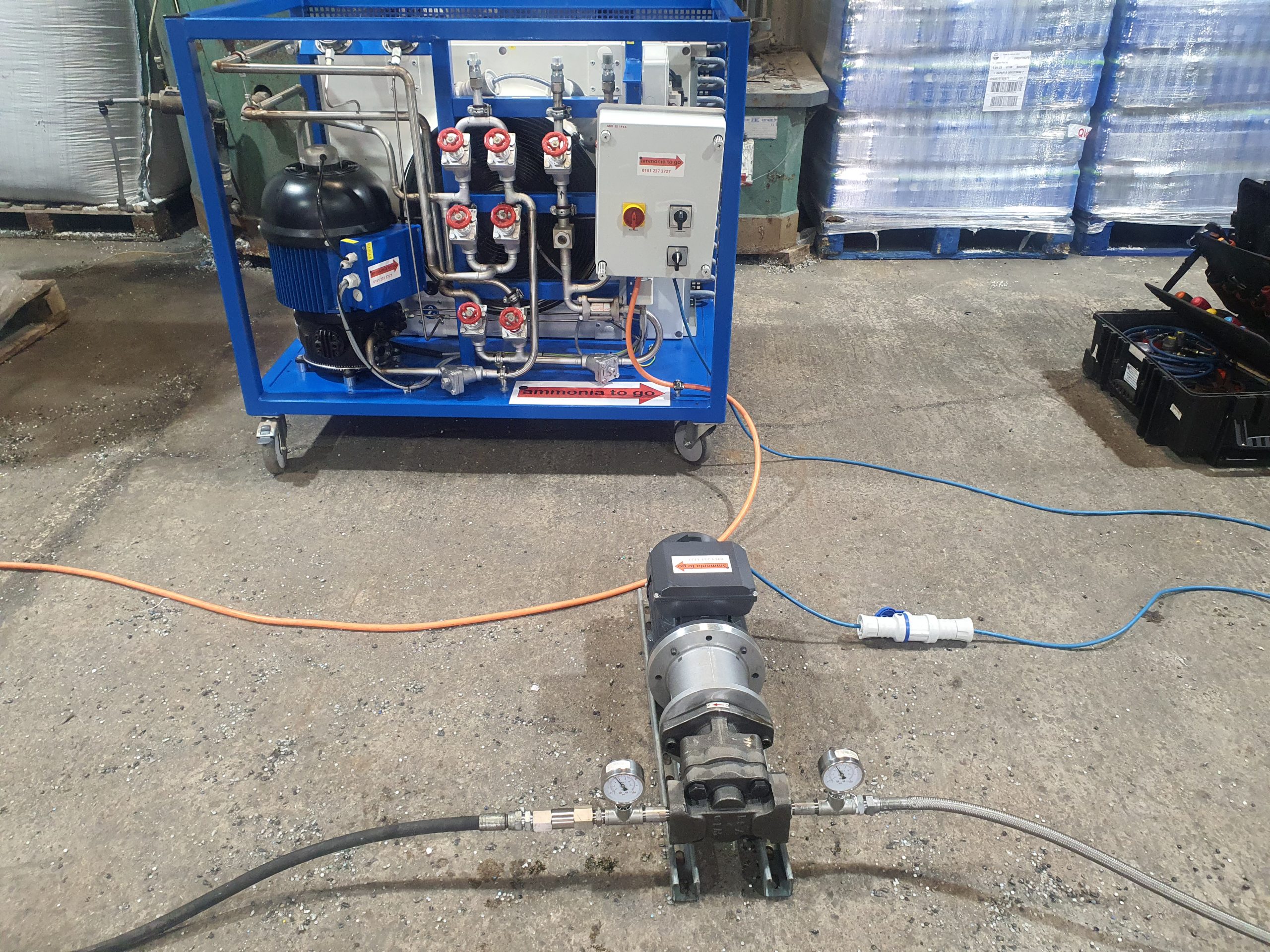 pump out unit
Our pump out unit has the capacity to drop the pressure in a drum to aid with refrigerant recovery. The unit has a reciprocating compressor which discharges into a continuous tube condenser. Any oil which escapes the compressor via the discharge is collected in the oil return pot. The difference in pressure between the pot and the compressor sump allows for the oil to be recovered.
ancillaries
Fittings are available to get from the plant to the recovery station. 16 amp, 32 amp and 64 amp plug sockets are used to get from the recovery station to the various factory power supplies.
hoses
Steel braided ammonia proof hoses are supplied by Head Office which are built using corrosive resistant materials.
0161 237 3727
pump@ammoniatogo.com
safety equipment
Breathing apparatus to British Standard regulations

for use in ammonia environments.

Ammonia resistant gloves which prevent freeze burns from occurring.

Specialist safety goggles which have been tested and certificated for use with corrosive substances.
Why don't to take a look at the ammonia to go webpage