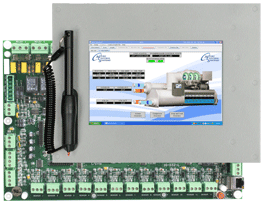 Chiller Upgrade
Maximus Chillers is a chiller upgrade company that can extend the life of large water cooled chillers for up to 10 years. The construction of new chillers has a high carbon footprint. Large fixed plant can run for 30 years or more. With regular maintenance, we can optimise the efficiency of your chilling plant. No part is obsolete: it can be replaced with a new part. See below for the kind of works we carry out...
What We Offer for Chiller Upgrade
The complete chiller package including corrosion and weatherproof paint. National and overseas coverage
Any chiller- any part- any problem- any refrigerant- Maximus Chillers
Read more about good practice in retrofitting to a new refrigerant
Case Study
On a site we look after in the South West, it was the first job for our engineer. He was changing the controller on a water cooled chiller. As this was his first time- it took a lot of guts! His first task was to rip the wires out of the panel! Not the 3 phase or the common neutral- but everything else. Now the chiller will never work again unless the controller is fitted correctly. After the wiring, the pins on the back of the controller need to be programmed for the machine. Needless to say: the chiller upgrade worked. The customer says better than before- well it should do- it is a Maximus Chiller now!
Next Steps...
Let's talk about the job on 0161 370 7193
Send us your pictures service@maximuschillers.com
The Contact Form works- try it!
Why choose Us?
With our in house controls team- we get the job done fast! This minimises down time for the minimum disruption to your process
Chiller maintenance and chiller repair at Maximus Chillers
Fully serviced chiller controls. Laptop plug in for programming menus
Call Out
Schedule a site visit today!