The industrial refrigeration ammonia visit was at a site in Aberystwyth. We look after 2 ammonia chillers for a blue chip customer. They are 10 year old chillers that have been designed to need ongoing attention. Quite easy job as the faults they go into are reoccurring round in a circle. They have previously had the same problems.
Ammonia Shaft Seal for Industrial Refrigeration
The shaft seal had started to leak ammonia. It was replaced by removing the shaft seal cover, splitting the coupling and sliding the shaft seal over the shaft. After removing the non condensables, we reintroduced the ammonia back into the compressor- now the 'o' rings leaked.
Leaking
Industrial Refrigeration Ammonia
'O' Rings
Leaks on 'o' rings occur because they become flattened and plastic like. This is caused by heat around the high side of the screw compressor. When there is pressure in the system- the oil if forced against the gap- making a seal. After the ammonia refrigerant had been handled- the oil ran away- causing a leak when the ammonia was reintroduced.
0161 237 3727
service@maximuschillers.com
Lift and Shift Visit
The pipework and ancillaries had been removed from the compressor prior to the visit. Our lift and shift guys arrived and set up their lifting equipment. They raised the compressor and manoeuvred it on across the roof. They then manoeuvred it up then down some steps. They used lifting equipment to get the compressor, end on- down a cat ladder.
Compressor Strip Down
It is always better to strip down this kind of compressor in a workshop- on a bench with compressed air and all the tools nearby. We unbolted the castings and slid the screw out. The various castings being laid out in a line. We replaced the 'o' rings for new the rebuilt the compressor.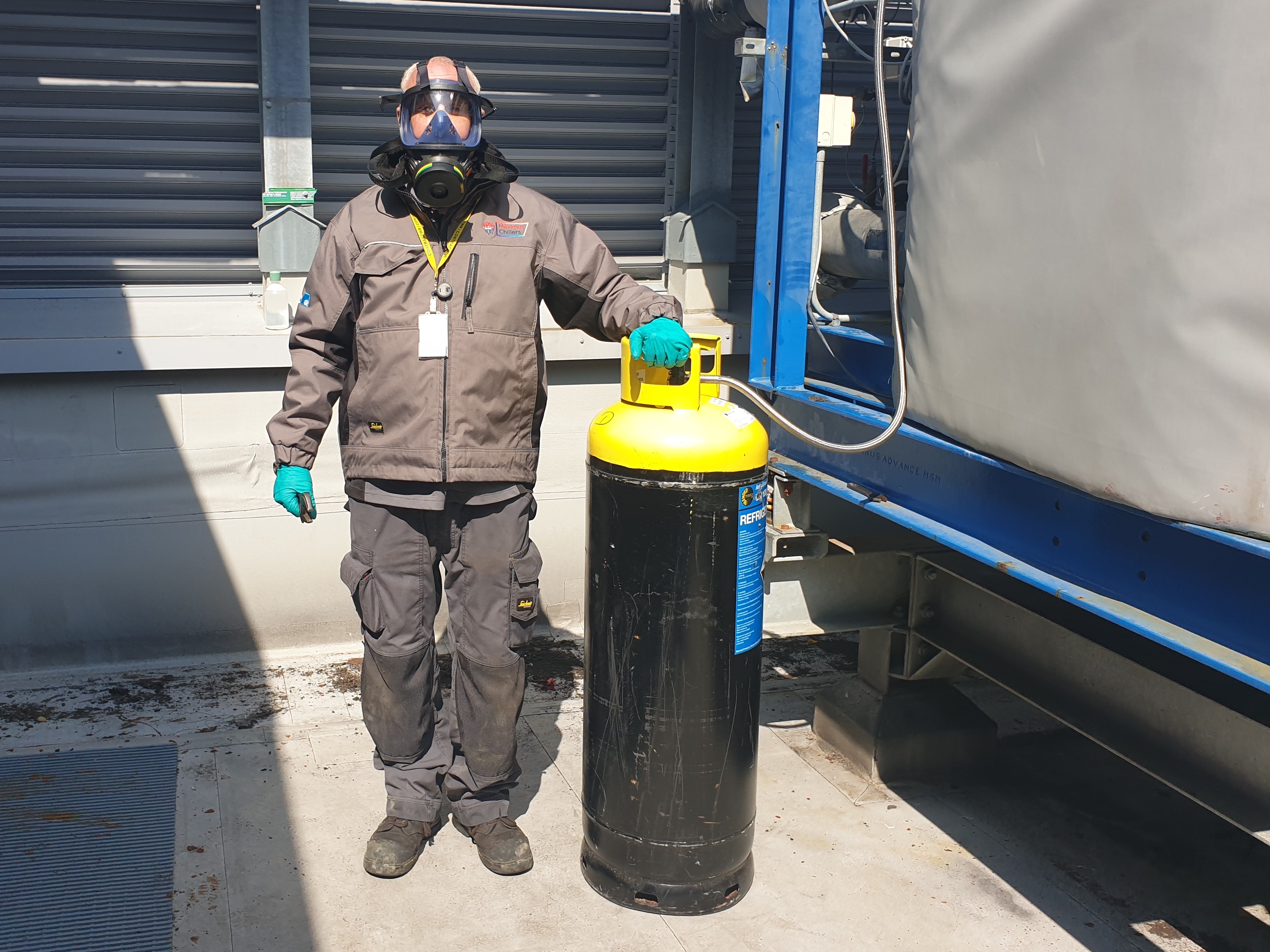 Ammonia Refrigerant Charge
Part of the ammonia refrigerant had been handled during the visit. This left the compressor pipework, compressor and the oil separator open to atmosphere. The non condensables were evacuated. In the photo we are lifting the cylinder up a cat ladder into the plant room. From there it needed to be man handled up some steps, down some steps and out onto the roof. We charged the ammonia plant with liquid ammonia until the superheat and subcooling values were within industry known limits. The sight glass levels and condition were monitored too.
Related Articles:
Industrial Refrigeration Sludge