An effective chiller repair service is what you need to get you up and running- fast! Here at Maximus Chillers, no job is too small, or too big. We have the capability to do anything from replacing contactors to centrifugal compressor remanufacturing- we are a one stop shop for all of your needs.
News Article No.26
Customer Orientated Chiller Repair Service
We also know the reason why we are an expanding company: you- the customer! Listening to your requirements goes a long way to help us achieve your objectives. We assign the same engineer to each site, so that you have the chance to build up a relationship and he gets to know your plant. Read on for an insight into some of the repairs that we carry out…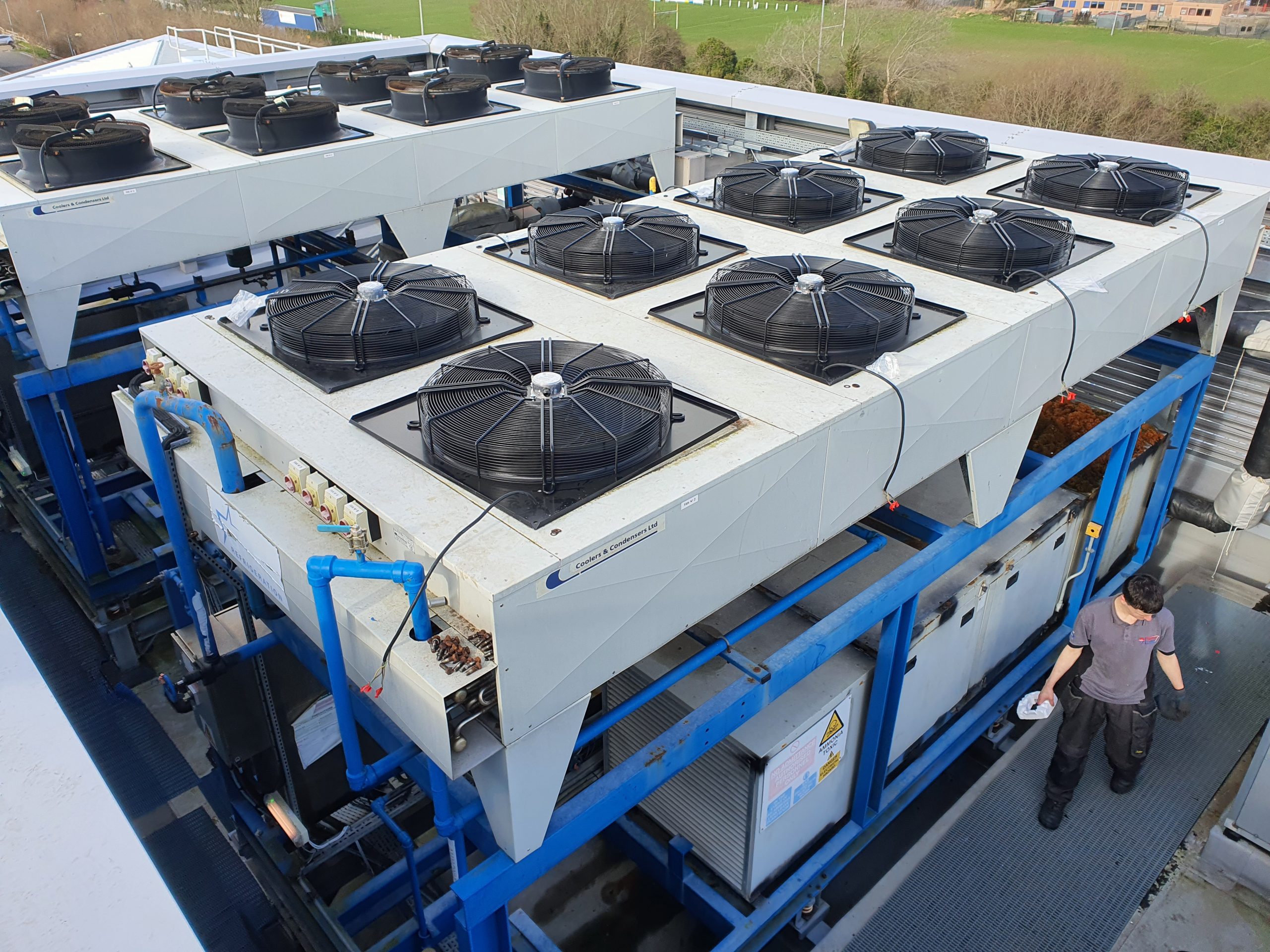 Fan Deck Retrofitting Chiller Repair Service
The photos show the fans being lifted up, then when they are in position on a 200kw ammonia chiller. The fans had been failing one at a time until the chiller started experiencing high pressure trip outs. Action was not immediately taken because there were insufficient funds in the customer's budget. When the customer was allocated a new budget, they gave us the Order to carry out the work. We decided to change all 8 fans.
Odd Size
The old fans were 790mm blade diameter instead of the standard 800mm. Manufacturers ask suppliers for odd sizes and specifications along with an OEM data plate in an attempt to monopolise the customer. A bonafide chiller company, however, is adept at making square pegs fit round holes. Not really a round hole though with this one- we just plonked our fan decks on top where the old ones had been fitted.
0161 237 3727
service@maximuschillers.com
Refrigerant Leak Chiller Repair Service
HFC refrigerants are becoming more expensive due to the HFC phase down. Therefore, as well as the environmental cost of a leaking chiller, there is the cost on your pocket too. At Maximus Chillers we find the root cause of the leak instead of just brazing it up. Some of these causes are:
Condenser Vibration
Some head pressure control systems bring the fans on, forwards and backwards in different stages. This causes the chiller frame to judder and vibration related leaks to occur on the condenser. The solution is easy- fit stand alone fan speed controllers.
Compressor Vibration
Some chillers are designed to fit into a small footprint of space. A good example of this is a particular model of laser chiller that had been designed to fit down the side of a laser cutter. That's alright until, years after production, reoccurring leaks start happening around the compressor. There is no room to fit vibration eliminators, besides, they only work if they are fitted horizontally and vertically with the far end being clamped. Brazing the leak up just causes the already work hardened copper pipe to further anneal and become even more brittle- another leak will happen shortly there after. The solution is to remove the whole piece of pipework, go up a pipe size and replace it with new.
Component Failure
We find some components are flawed and are prone to leaking. An example of this are refrigerant hoses which are prone to rubbing through against the chiller. The solution is to fit anacondas or static copper pipework.
Reduced Service Costs
All of these measures and more are how we reduce the frequency of refrigerant leaks on your plant.
0161 237 3727
service@maximuschillers.com
Compressor Remanufacturing Chiller Repair Service
Weather you have scroll, reciprocating, screw or centrifugal compressors, we have the capability to get it out, rebuild it and get it back in again. With same day delivery of internal compressor components- we won't keep you waiting around. Our expert team are adept at ensuring that your compressors are rebuilt with minimal run out and have clearances that are within tolerance. All bolts are touqued up to the correct setting too. The last part of the job is the compressor paint re spray to the same colour as before, or to our standard battleship grey.
Controls Retrofitting Chiller Repair Service
When a controller fails it is often found to be obsolete. Don't worry because we can fit a new controller to any machine. For HFC chillers we fit Carel controllers, we fit Beijer Electronics to ammonia chillers and MCS controllers to centrifugal chillers.
Strip Out
The easiest way to do a controls retrofit is to start all over again from scratch. We remove the defunct controls from the panel and pull all the control wiring out too. We leave the three phase wiring in place, the contactors and the common neutral.
Rewire
One wire at a time, we rewire the chiller. All of the analogue inputs are wired in along with the digital inputs. Then, the outputs are wired to the contactors and relays. The transformers in the panel are often reused to get the various voltages that are required for the new controller, contactor coils and relay coils.
Commissioning
The new controllers come pre set with default parameters so only minor adjustments are needed to get the chiller to settle down. We then spend the rest of the day monitoring the chiller so as to watch it running in the various stages of loading and under different running conditions.
Chiller Repair Service that is
Second to None
The above examples are just an insight into our extensive range of capabilities in the repairs of your plant. Basically- if you have a problem- then we have a solution. This is just part of what we call the MAXIMUS ADVANTAGE™ Any Chiller- Any Problem- Any Part- Any Refrigerant- Anywhere. With customers around the world in places like Saudi Arabia, Spain and the United States of Amarica we continue to exceed the expectations of our customers. We have a network of engineers around the UK too, so we are never farer than a couple of hours away. For the best service, the choice is clear- Maximus Chillers!
Related Articles:
Chiller Fan Deck Service
How do Chillers Work? Compressors
Hit the Tags below to navigate your way to our extensive library of further reading on this subject.
Read more about refrigerant leak causes & tests at Herzing College.